Saturday, November 4 by JerryFoster
The WWBPA is an all-volunteer nonprofit 501(c)3 organization that cannot endorse or oppose any candidate for political office, but we can ask them questions and report their answers to our members and the public. On October 6, each candidate for West Windsor Twp Council or Mayor was emailed a questionnaire developed by the WWBPA trustees. Thank you to the candidates who responded, here are their responses, in order received (Khamal Khanna, former Council member and Mayoral candidate, and Yingchao Zhang, Council candidate, did not respond).
WWBPA: What are your views on the needs of bicyclists, runners and walkers of all ages living in West Windsor, and what steps would you take to address these needs?
Kristin Epstein (Council candidate): "Interconnections: We have sidewalks, bicycle lanes, and paths that lead to nowhere or have large gaps. I propose creating a comprehensive detailed map of all sidewalks, bicycle lanes, paths, and trails in West Windsor Township and surrounding areas. The map should indicate surface type, width, and types of use (foot only, foot and bike, etc). With such a map, we can target the ?quick fixes? first and then integrate bicycle and pedestrian safety into all planned and proposed construction projects."
Linda Geevers (Council member and candidate): "I support capital funding and grant applications for bike lanes, off road paths and new sidewalks in order to improve safety and encourage alternate modes of transportation. This promotes a healthier and more sustainable community. I also support the urgent need for additional funding to replace uplifted existing sidewalks due to municipal street trees. It is not only dangerous to walk on many sidewalks, but it is causing residents to walk in the roads."
Virginia Manzari (Council candidate): "For many years I?ve advocated for sidewalks on Cranbury Road and other neighborhoods at WW Council and County Freeholder meetings. Constructing those sidewalks during the bridge closure would?ve been ideal. The most dangerous section still needs to be addressed. We should ensure we have sidewalks, bike lanes, and multi-use paths to accommodate all residents; crosswalk lights must be more visible; and sidewalks should be repaired so people don?t walk in the road when sidewalks buckle."
Hemant Marathe (Council member and Mayoral candidate): "Safety is extremely important to me, and I?d like to see West Windsor become a zero-fatality community.? Education for all parties ? pedestrians, runners, bicyclists, and motorists ? is the first step in achieving that goal, and we should all be part of the solution.? West Windsor is a beautiful community, and I am committed to providing ample opportunities for residents to enjoy the amenities that WW has to offer, whether they walk, bike, or drive there."
Yan Mei Wang (Mayoral candidate):"Our present road infrastructure is suitable for ?brave? bicyclists and runners only, not for residents of all ages and physical conditions. Bicycle lanes and sidewalks are fragmented; sidewalk pavements are lifted, posing a tripping hazard. I will actively seek external funding to connect up our bike lane and sidewalk networks, timely repair damaged sidewalks while selecting appropriate trees for future sidewalks, and protect our bicyclists and runners on the road with physical barriers by introducing protected bike or multi-purpose lanes to West Windsor."
WWBPA: What are your views on the Route 571 area often referred to as ?Downtown West Windsor??
Kristin Epstein (Council candidate): "?Downtown West Windsor? improvements provide a perfect opportunity to make West Windsor more pedestrian and bicycle friendly. With County assistance, Route 571 needs widening and reconfiguration to be safer and more attractive. For example, the road needs lamp posts to illuminate the walkways and a landscaped pedestrian island to make it easier for pedestrians and bicyclists to cross safely. Additionally, more restaurants with outdoor seating, shops with outdoor displays, and community events would improve the ?hometown? feel of the area."
Linda Geevers (Council member and candidate): "The township has to work collaboratively with Mercer County and the Alliance towards enhanced safety. Improvements include reviewing speed limits, possible medians, additional lighting for better pedestrian visibility to motorists, crosswalk enhancements and continuous sidewalks on both sides of the road. As new site plans come forth, careful consideration is needed for the entering and exiting of a property. Continuous efforts must also be made to educate drivers on the laws regarding crosswalks."
Virginia Manzari (Council candidate): "Route 571 is often mentioned as a desired ?downtown,? and I?ve been a leading voice in its rejuvenation and improved safety for a decade. Unfortunately, 571 is a major through-way. As a county road, the speed limit isn?t likely to be lowered, which makes creating a walkable downtown on both sides difficult. We should focus on improving walkability from the train station to Windsor Plaza, Nash Park, Arts Council, High School South, and Cranbury Road."
Hemant Marathe (Council member and Mayoral candidate): "We must work with the county to better control traffic flow and speed to provide a safe corridor to walk and bike here. It?s challenging, as the needs of drivers must be balanced with the needs of walkers and cyclists ? all of whom are trying to get to stores, the train station, etc.? Several required improvements include consistent lane structure, sidewalks, better street lighting, more visible crosswalk lighting, and better education and signage for drivers."
Yan Mei Wang (Mayoral candidate): "Downtown should be a destination that can be accessible by residents via convenient, alternative transportation. While the Route 571 area vaguely resembles a downtown and is the embodiment of our anticipation for a downtown, it is not the described downtown, yet. The Wang administration will strive to bring diverse activities and businesses to the area as well as the necessary alternative transportation methods – community shuttle, sidewalk, and bike lane networks and make the Route 571 area our downtown."
WWBPA: How do you feel about working with schools, police, and the Recreation Department to improve safe walking corridors in heavily used pedestrian areas?
Kristin Epstein (Council candidate): "Schools, police, and the Recreation Department–as well as NJ and Mercer County DOTs, businesses, and residents–must work together to improve pedestrian safety. I?ve spoken with many residents about their neighborhood concerns, especially near the train station and schools. Every neighborhood should be evaluated for improvements–such as ambient lighting, signs, flashing signals, cameras, crossing guards, and speed bumps–to ensure that safety is paramount."
Linda Geevers (Council member and candidate): "As a Council Member, former School Board Member, Liaison to the Recreation Commission and Alliance Member, I wholeheartedly support working with these groups and to have these groups work collaboratively together. The collective knowledge of everyone?s experiences helps in identifying and prioritizing goals for safety improvements around schools, parks or shopping centers. For implementation, the Capital Budget provides direct funding for safety improvements, grants are identified for specific projects and site plans are carefully reviewed."
Virginia Manzari (Council candidate): "Each of these groups shares a common goal, and coordination of efforts is the key to success. It begins with education ? making sure each party is aware of and understands the law with regard to crosswalks, right-of-way, etc. Then implement a coordinated effort among all stakeholders to create a long-term traffic plan at each school and other high-traffic areas to improve flow of vehicular, bicycle, and pedestrian traffic with safety as the number one goal."
Hemant Marathe (Council member and Mayoral candidate): "As School Board President I appreciated that WW Township provided crossing guards at each school. We should encourage as many kids to walk to school as we can and provide them with the safest environment in which to walk. The safety aspect will come from educating the public and through tougher enforcement. ?As mayor I will work with schools and police to encourage non-vehicular ways of getting to school, with safety being of utmost importance."
Yan Mei Wang (Mayoral candidate): "Currently, 1.5% of West Windsor school children walk/bike to school even though at least 10% of our students do not have school bus services; parks are mostly accessed by cars, and many local residents cannot walk safely across the street to parks; and sidewalks near the train station are fragmented. We should (1) apply for grants such as Safe Route to School grants to provide continuous sidewalks around heavily used, or anticipated to be heavily used, areas near schools, (2) implement the Walking School Bus program so children walk, and (3) increase police enforcement on traffic safety violations, such as speeding in heavily used pedestrian areas."
WWBPA: Now that Canal Pointe Boulevard has been reconfigured, do you think other roads might benefit from a ?Road Diet? or other traffic calming measures?
Kristin Epstein (Council candidate): "The Canal Pointe Boulevard road diet has improved pedestrian, bicyclist, and motorist safety without impeding traffic flow. However, each neighborhood is unique, so we must be guided by the experts to design the most effective solution for each road. For example, the parts of South Lane that have no sidewalks or curbs would benefit from road widening and the addition of sidewalk. Bike paths separate from car lanes are ideal. But on roads with width constraints, we could explore asphalt sidewalks that pedestrians and bicyclists could share where bike lanes are infeasible."
Linda Geevers (Council member and candidate): "Traffic calming measures are needed on Rt. 571 from Clarksville Road to the Wallace Road/Cranbury Road intersection. Additional street lights and sidewalks should be put along both sides of this road to enhance pedestrian safety. The crosswalk at Sherbrooke Drive is very wide and a median should be considered for further safety. Traffic near the Old Bear Brook Road and Alexander Road area will increase due to new development and should be closely monitored too."
Virginia Manzari (Council candidate): "We should take a proactive approach to safety, and carefully evaluate each roadway on a case-by-case basis, as some options will work on some roads but not others. When a problem is identified, we?ll evaluate options for improvement and choose the best alternative, considering efficient and zero cost options in the form of grants, as well as policing the existing speed limit, additional speed limit signage, lowering speed limits where appropriate, and installing additional lighting."
Hemant Marathe (Council member and Mayoral candidate): "I?m happy the Road Diet has worked well. One point we should communicate is that bike lanes on CPB are not meant for elementary-aged children to ride unsupervised. I?ve heard of two instances where a child fell in the bike lane, yet unbelievably, cars kept zipping by.? Luckily they weren?t hurt.? I?d consult with experts on which roads would benefit from a road diet, giving weight to the opinions of people directly affected by any changes."
Yan Mei Wang (Mayoral candidate): "Before the Canal Pointe Boulevard reconfiguration, I heard opposite predictions ? some people thought it would increase congestion, while others thought it would alleviate congestion. After the reconfiguration, I gathered feedback from Canal Pointe residents; most like the road for both its smoothness and its new configuration. The congestion level, however, seems to remain the same. I await safety evaluation to further assert that the ?Road Diet? works in this case. If confirmed, ?Road Diet? can be an effective traffic calming measure in other roads."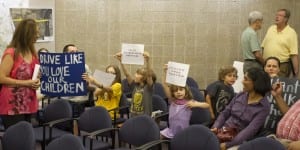 WWBPA: Please include any information about your candidacy, background, or other topic that you would like to share.
Kristin Epstein (Council candidate): "I am an environmentalist by training and practice. I jog and bike throughout West Windsor. When my daughter was young, I could not safely jog her to the Kindercare on Rabbit Hill Road because no sidewalks or trails were nearby. With comprehensive planning and grants, West Windsor can expand the Trolley Line Trail and add new trails through many open space parcels, to provide safe and beautiful routes to parks, schools, and businesses."
Linda Geevers (Council member and candidate): "The Marathe-Geevers-Manzari ticket has 43 collective years on the Council, Planning Board, Zoning Board and WW-P School Board. Our team is unequivocally opposed to rezoning the Howard Hughes property for residential housing. We will retain an expert Business Development Director to attract and keep high tech firms and next gen startups to provide critical commercial ratables. We will support additional funding for sidewalk and road repairs, new sidewalks, additional street lighting and bike lanes."
Virginia Manzari (Council candidate): "My son rides his bike just about every day throughout town to stores, parks, and friends? homes, and my husband typically bikes 20-25 miles each weekend day. Both of my kids cross 571 to get to Windsor Plaza. So I spend a lot of time worrying! But since that?s not productive, I also try to find solutions to problems and encourage their implementation. I?ve done this not just in my neighborhood, but throughout WW, too."
Hemant Marathe (Council member and Mayoral candidate): "As a student at I.I.T. Bombay I used a bicycle to commute to class every day for five years. ?During break I would take the bike home 22 km in Bombay traffic. ?As a parent with four daughters we had six bikes in the garage at one point, and we all enjoyed riding around West Windsor."
Yan Mei Wang (Mayoral candidate): "I?m the only candidate that has concretely acted towards improving our bicyclists? and pedestrians? lives – by designing the first protected bike lane in NJ and introducing a Walking School Bus program to West Windsor. Therefore, I?ll be the only candidate to bring her bicycle/pedestrian campaign platform into reality if elected mayor. Vote for Yan Mei Wang for her action-based bicycle/pedestrian platform."
Comments Off

on Twp Candidate Responses to WWBPA Questionnaire