Sunday, July 8 by silvia
Our annual bike drive for Bike Exchange and the Boys and Girls Club of Trenton collected 25 bikes, some new inner tubes and other accessories. Thanks to everyone who brought a bike or two to the farmers? market on June 30!
This is the most unusual cycle we collected. Any ideas of what it's best suited for? It's certainly not a simple trike! And the fat, solid rubber wheels up front mean it takes more energy to get going than on bike tires.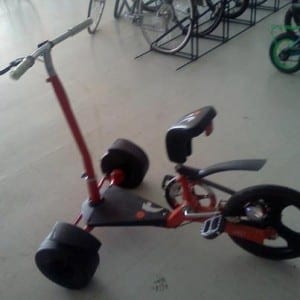 Missed our bike drive and don?t want to wait until next year?? You can drop off your donation at Bike Exchange (Capital Plaza Shopping Center, 1500 N. Olden Ave, near the Trenton Farmers? Market), or a number of area bike shops including Jay?s and Kopp?s in Princeton, Halter?s in South Brunswick and Bicycle Rack in Hightstown. Or watch for other groups that are having a bike drive.
Bike Exchange is an amazing all-volunteer organization. It began collecting, refurbishing and selling bikes in early 2009 and has a large selection of good-quality, low-cost used bikes for all bike riders, 3 years to 100 years old, from occasional weekend rider to serious road rider. Stock depends on what?s donated, of course. In just six months this year, it has sold 1,038 bikes (229 in June alone). Through mid-June, the amount raised was $27,000, and it all goes to fund the after-school programs of the Boys & Girls Club. That's a busy nonprofit!
Even cooler: there are now Bike Exchanges in Newark and Plainfield.
And Bike Exchange?has supported the WWBPA's "learn to bike" classes with a few loaner bikes to make sure new riders have the right-sized bike every step of the way. Thank you!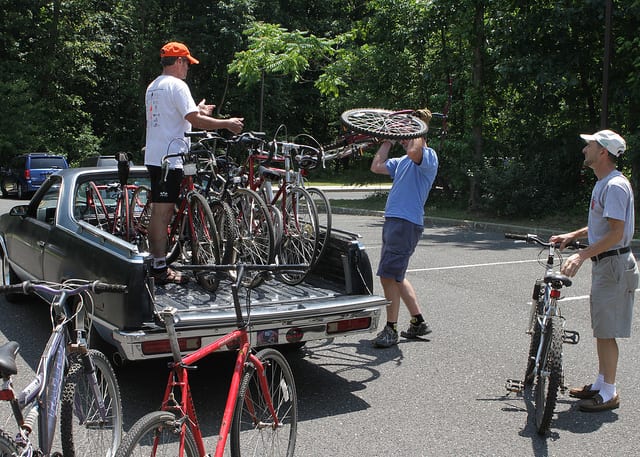 Comments Off

on More Bikes for Bike Exchange