Register your bike with the West Windsor Police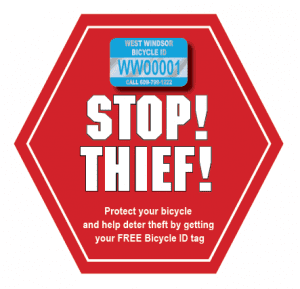 Deter Thieves and increase the likelihood that you can recover a stolen bike by registering your bike with the West Windsor Police Department in a new program offered in collaboration with the WWBPA. How does it work? Simply download a form, fill it out with your bike's description and serial number and return the form to the police department or the WWBPA to get your bike registration tag.
The self-adhesive aluminum tags attach easily to your bike frame (instructions), are very difficult to remove and make your bicycle less desirable to thieves. Each tag has a unique number and your registration?provides the West Windsor Police with contact information that makes it easier to ID and return stolen bicycles to their rightful owners.
Bike ID registration forms are available on the WWBPA website, West Windsor Police Department, 271 Clarksville Rd, or at police website ?and?at various events where WWBPA appears, e.g. WW Farmers Market and other announced events.
After you fill out the registration form, deliver it to the WW Police Dept. or WWBPA at the Farmers Market on alternate Saturdays to pick up your self-adhesive numbered ID tag(s) and have the tag?numbers added to the registration form.
More in This Section