Wednesday, May 2 by silvia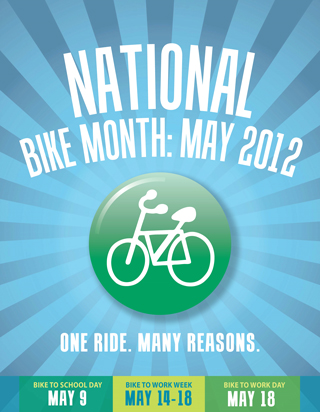 May is National Bike Month, and the week of May 13 is Bike to Work Week. A number of events are planned in West Windsor and neighboring communities; one (or more) is sure to be right for you. We've also included a few for walkers. (Note that not all events listed below are organized by the WWBPA)
May 5: West Windsor Walks to the opening day of the farmers' market. Join us at 8:50 a.m. in the parking lot at the back of Maurice Hawk Elementary school for a leisurely stroll of just over a mile. We'll start walking at 9 a.m. and are?excited that the route this year will take us along some stretches of sidewalk that weren't there last year. Kids will be challenged by a game of "I Spy." People in wheelchairs and kids in strollers are welcome.
May 6: Bring your child (up to age 10) and bike to a free bike skills class at Plainsboro's Founders Day. Princeton's police department is sponsoring a separate bike skills class that includes a bike obstacle course on May 19; call 921-2100, ext. 1848 for details.
May 11-12: Adults aren't being left out. This skills class, offered through the West Windsor Recreation Department, is for those who want to boost their confidence when riding on the road. Cost is $50, but the WWBPA will reimburse $25 of the cost for members. Plus we'll cover the other $25 for the first five members who write a review of the class that we can use on our website.
May 12: Buy a bike at Bike Exchange in Ewing and get a free helmet from Greater Mercer Transportation Management Association. Learn more about this and other GMTMA events during National Bike Month here.
May 14-18: National Bike to Work Week. Register for a free T-shirt and a raffle with GMTMA.
May 15: Bikers Breakfast at the Princeton Junction train station, sponsored by the WWBPA and Greater Mercer Transportation Management Association, starting at 6 a.m. Grab a drink and a snack on us. Want a bike locker? We'll tell you how to get one.
May 16: The WWBPA is supporting one of three area Ride of Silence events to honor cyclists killed or injured on the roads. Meet at 6:45 p.m. in the Municipal Center parking lot; the silent one-hour ride will leave at 7 p.m. We will have a West Windsor police escort and a funeral hearse courtesy of Mather Hodge. We suggest you wear a black armband and turn on your front and rear lights. We will stick together for the entire 10-12 mile route. Last year, more than 12,000 cyclists took part in events around the world.
May 19: Tour historic Trenton with the Trenton Cycling Revolution. More information about this 15-mile ride and registration at www.trentoncycling.org.
May 26: BikeFest, West Windsor's bicycling extravaganza, with rides for people of all abilities, from 1.5 miles to 40 miles. Register at www.westwindsorbikefest.com. Say "hi" to the WWBPA after your ride!
June 16: The WWBPA holds a free "learn to bike" class for kids who want to get off training wheels at the West Windsor Farmers' Market. Watch the video of last year's class. Note: This is a members-only event.
Comments Off

on Celebrate National Bike Month 2012