Wednesday, July 31 by ezeitler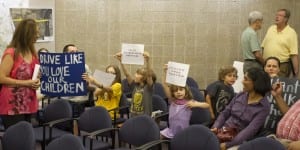 Residents of Cranbury Rd and others concerned about safe streets for children, pedestrians, bicyclists and drivers came to the West Windsor Township council meeting on July 22nd to show support for sidewalks on Cranbury Rd. Organizing the group has been Sarah Thomson and Samirah Akhlaq-Rezvi, two residents of Cranbury Rd. At the meeting, a number of residents shared stories of unsafe conditions on the road and their call for sidewalks to build a safer, healthier and more community oriented street. Members of the West Windsor Bicycle and Pedestrian Alliance were on hand to support the residents.
The concerns of the residents were heard by the Council. All five council members voiced support for sidewalks on Cranbury Rd and for funding an engineering study to see what options are available. The Township is also interested in applying for a competitive state grant to fund the sidewalks. Some council members agreed that due to the urgency of the issue, there is sufficient funding in the capital budget to build sidewalks even before a grant from the state is approved.?Mark Shallcross was present to photograph all the folks speaking as well as the great signs they brought!?The?meeting?and?organizing?have been covered by the West Windsor Plainsboro News in?this past weekend's paper.
Do you support sidewalks on Cranbury Rd? There are a number of ways you can help to make sidewalks happen.
Attend: There will be a public meeting with Mayor Hsueh to discuss Township and community plans for sidewalks at 10 AM on Saturday, Aug 10th at the Municipal Building at the corner of Clarksville and North Post Roads. All are encouraged to come to the meeting to show their support and maintain the momentum for action.
Write: Sarah and Samirah are seeking volunteers to write letters describing concerns about safety on Cranbury Rd and support for sidewalks to accompany the Township's grant application to the state. These can be emailed to the WWBPA and we will pass them along to Sarah and Samirah for inclusion in the Township's application. We can also pass along your info to Sarah and Samirah if you'd like to get more involved with the community group organizing for sidewalks on Cranbury Rd.
Photos by Mark Shallcross.
Comments Off

on Update: Sidewalks on Cranbury Rd making progress due to community pressure