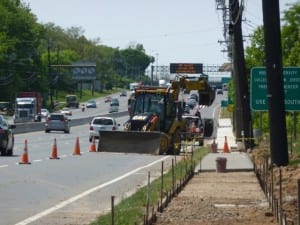 Sidewalks are being installed along Route 1 between Nassau Park (home to Target, Wegman's and other stores) and Windsor Green (Whole Foods and others), connecting Nassau Park to Canal Pointe and the rest of West Windsor for pedestrians (and bicyclists, we'd wager). The WWBPA wasn't involved with this project, but the worn path through the grass is evidence that plenty of people were walking this route even without a sidewalk. We also heard several compliments about it, from both sides of Route 1. Here's one; thank you, Beth Zeitler!
One of the great things about living in Princeton is that I can get around on my bike or by walking in addition to using my car. ?It's easy to get around the Boro on a bike or on foot, and even to get across Route 1 to Plainsboro to run errands, but often I'd like to head south along Route 1, including to the shopping centers off Meadow Road and Nassau Park Boulevard. I know a lot of other folks do the same, for shopping, dining and entertainment as well as for work. The D&R Canal trail can be used to get to the shopping centers, however because it is removed from the street, it is difficult to visit multiple locations, and hard to use at night or in poor weather conditions.
I'm glad they are putting a sidewalk between the shopping centers along Route 1 to make the trip easier and more convenient for folks like me who'd rather get out of the car and use a bike or my feet to run my errands. I'm even happier for the people who will now have a safer commute to work, especially folks who are traveling on bikes out of necessity rather than choice. Infrastructure improvements like this help keep our community moving forward.
Tags: pedestrian safety, sidewalks, walking