Thanks to all who donated bikes (and assorted bike-related items) to our bike drive to support Bike Exchange and the Boys & Girls Club of Trenton.
We collected 52 bikes, 2 scooters, a trail-a-bike (attach second bike to yours), one bike rack for the back of a car, various parts … our best bike drive in several years!! We also directed several people who wanted to donate bikes to Bike Exchange and their various pick-up points, plus we think we inspired the daughter of a market vendor to run a bike drive at Princeton High School
Not only were we thrilled with the day, but so was Bike Exchange, whose stock of bikes was running very low.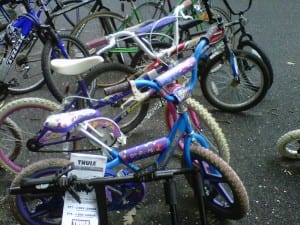 Tags: Bike Drive, Bike Exchange NJ